Eugene Levy tears up as Steve Martin and stars pay tribute in touching video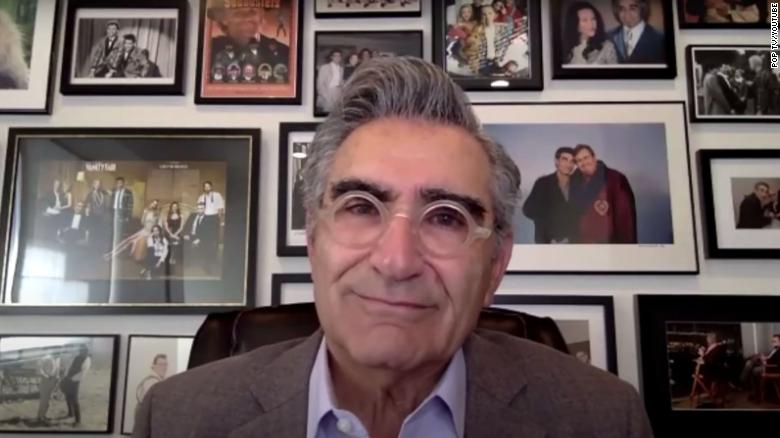 Friends, family and co-stars paid tribute to Eugene Levy as he received a Lifetime Achievement Award from the Newport Beach Film Festival.
(CNN) – Actor Eugene Levy won the Lifetime Achievement Award at the Newport Beach Film Festival this year, and the organizers sent him a special video to celebrate.Levy was so touched by the montage — which featured Steve Martin, Martin Short and Andrea Martin as well as the cast of comedy show "Schitt's Creek" — that he had tears in his eyes by the end.In the recording, posted online Tuesday, Levy watches a series of pre-recorded messages, which the viewer can also see.
The @nbff honoured @Realeugenelevy with their Lifetime Achievement Award and seeing as no one could gather in person, @Variety helped us put together a congratulations video with some beloved family and friends.

And here's more from the man himself: https://t.co/xqMDBrLi2l

— Schitt's Creek (@SchittsCreek) August 11, 2020
"First, let me say what an honor it is for me to not be there tonight," Steve Martin said, who has worked with Levy in films such as "Father of the Bride" and "Cheaper by the Dozen 2.""To be able to tribute you and not really have to do much or go anywhere, just stay home, is such a thrill," Martin added.Normally Levy would have been able to collect the award in person, but the ceremony was canceled due to coronavirus."Eugene is like family to me in that we often eat dinner in total silence," said Short.Levy's son Dan, who co-created "Schitt's Creek" with his father, also had his own tribute. "You're very good at what you do and you set a bar for everyone that you work with," he said.
'Schitt's Creek' cast says an emotional goodbye "You are incredibly professional, you're incredibly kind. And you have been such a role model for me, just in terms of how to be good, generally, and good at your job.""Schitt's Creek" ran for six seasons until its run ended earlier this year, and received more than a dozen Emmy nominations.Levy has also enjoyed a long movie career, acting in the "American Pie" franchise, the "Night at the Museum: Battle of the Smithsonian" and many more."You are the best example of how to be a human and an actor and do it really well and be funny," said Emily Hampshire, who played the hotel clerk Stevie Budd in the series.Levy laughs along as the tributes continue to roll in, before becoming visibly emotional towards the end."Look at this, are you happy now?" he said, removing his glasses to wipe away tears.